'2019 Presenter Search on 3' – Top 8 contestants revealed!
Can you believe it's already down to the Top 8 contestants on the fifth season of Presenter Search on 3.
Host Leigh-Anne Williams revealed the eight contestants moving to next week after the Top 9 round, sending one contestant, Mncedisi Sindane home.
The final three will get contracts to become a presenter on either SABC3's Top Billing, Expresso or Afternoon Express.
Judged by 5FM personalities Roger Goode and Thando Thabethe alongside Dr Musa Mthombeni, the show airs every Wednesdays at 19h30 on SABC 3.
Check below to meet the Top 8…
Deen Woodman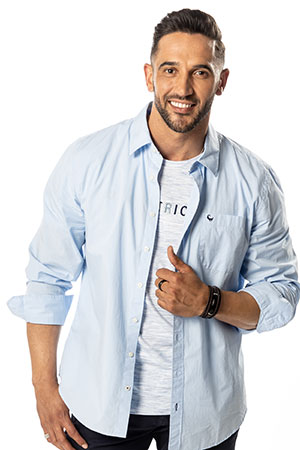 Deen Woodman (39) grew up in Mitchells Plain and went to school in Athlone. He is the youngest of three children and his father passed away when he was 18.
He believes it is important to live in the present moment and not to worry too much about the future or the past.
Woodman started as a part-time tourism student, but later switched to sales and marketing. He is extremely competitive and doesn't like to fail in anything.
He says that failure will always lead him on a path to discover what went wrong and learn from his mistakes.
He likes to keep fit and keep his body in good shape; he spends most of his free time in the gym with friends and he loves to dress up for any occasion.
Deep inside Woodman always wanted to be in the spotlight. When his friends dared him to audition, he was reminded of a path of his life that he had forgotten. The opportunity opened the opportunity for old dreams.
He admits that it is still unreal to be part of the Top 10 people that are currently in the competition. He believes that his age – being a bit older than the other contestants – gives him an advantage.
Quote: "I know who I am and I'm true to myself. I have a calmness about me and life experience."
Jamie-Lee Domburg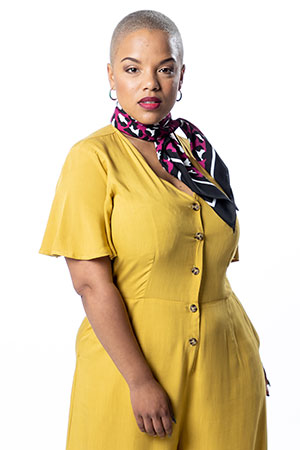 Jamie-Lee Domburg (26) is the mother to an 8-month-old boy, Luca. She grew up as an only child in Steenberg, Cape Town.
She loves to dance and smiles when she refers back to 2008 when she went to Germany for the Hip-Hop World Championship.
After school, she studied Speech and Drama at the Cape Academy of Performing Arts, whereafter she ventured into the world on cruise ships.
She worked as Master of Ceremony on these cruise ships for more than four years, where she regularly had to speak in front of thousands of people.
Domburg entered Presenter Search on 3 because she sees it as a great platform to do well. Being in the Top 10 means a lot to her and mother, Patricia.
Personally, being in the Top 10 is like validation on a deep level that she can do anything she set your mind to, despite her background.
She wants this experience to transcends to her raising Luca as a single mother. She wants him to learn to live unapologetically and she wants him to follows his dreams.
Domburg is a model and has done many campaigns for advertising agencies as a plus-size model.
Quote: "I think the time is now, so many have paved the way for plus-sized celebrities. It's my time to use this platform, that everybody can see it doesn't matter what you look like or your size – everybody has the talent and the potential to be extraordinary."
Jarrad Ricketts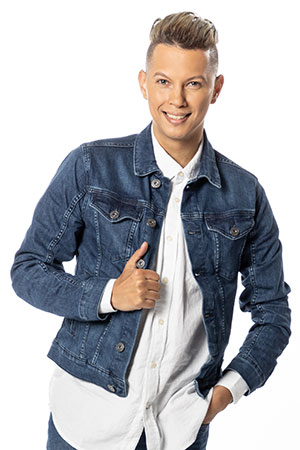 Jarrad Ricketts (32) is a dynamic creative artist and education activist. He is an award-winning singer and songwriter that uses his platform to educate children that a better future is possible, despite your circumstances.
Ricketts was adopted as a baby. His mother had three daughters and dreamt about a little a boy. She saw an advertisement in a newspaper and went to see him and as the saying goes, 'the rest is history'.
Ricketts was adopted into a musical family and he believes that he was born with a natural musical talent, but was given a family who could nurture his talent.
In 2019 he received a SAMA nomination for Best Pop Album, on which he wrote all the songs himself – without any formal musical training.
He has also appeared on the music shows Musiek Roulette and Noot vir Noot.
He always wanted to perform. He remembers how he performed for his toys and teddy bear with his sister's hairbrush and practiced links in front of the mirror.
He loves being an entertainer because when he's entertaining people, he can affect how people feel or shift the mood in any room.
A few years ago, Ricketts did a presenter course and the teacher told him that he should not pursue a career in presenting. Her words; "you'll never be booked as presenter", was imprinted in his mind for the longest time.
When he saw the advertisement for Presenter Search on 3: Expresso Edition he decided that he couldn't let her words and his fear keep him from chasing his dream.
Now Ricketts is one of the Top 10 contestants and he still can't believe that he believed the teacher's words for so many years.
Ricketts wants to be the success story from the Cape Flats and he wants to encourage others that it's not about what people think… it's all about the passion in you.
Quote: "Being in the Top 10 proves the lie that I wasn't good enough to be untrue. It is confirmation that I have a place in this world."
Nathaneal Davids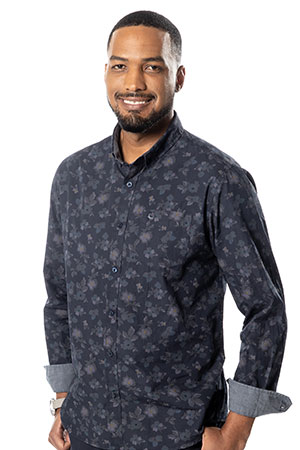 Nathaneal Davids (29) is from Roodepoort in Gauteng. Until recently he worked as a content producer for a digital agency, but he resigned from the company to enter Presenter Search on 3: Expresso Edition.
Davids was about four years old when he saw Michael Jackson do the moonwalk on television and remembers that he liked the way it made him feel in that moment.
Many years later that moment led him to pursue opportunities in the entertainment industry.
He studied Communication at the University of Johannesburg, and it was in his student years that he tried his hand at radio presenting.
Presenter Search on 3 judge Roger Goode was an idol to the young Davids and one of the reasons he got into radio in the first place.
In 2012, Thando Thabethe – also a Presenter Search judge – left her presenting job at YFM and Davids took over from her.
Over the past few years, he has entertained audiences across South Africa as a comedian, sharing the stage with the likes of Barry Hilton, Nik Rabinowitz, Marc Lottering and David Kau.
He featured at the Durban Comedy Festival and is a regular at Goliath & Goliath, Parker's Comedy Club and Cape Town Comedy Club.
This is the first time he auditioned for Presenter Search on 3. He believes that this was his divine time to enter, as he didn't even know about the previous season's auditions.
He says that he wasn't mature enough before and this opportunity is a sign that he is on the right path and that he is where is supposed to be.
He is ready to learn a new skill and has many years to prepare him for this journey.
Growing up wasn't easy. He had a difficult relationship with his father, especially when it came to his passion for entertainment and television.
He struggled with mental health issues and had to deal with being a victim of bullying. His mother went way and beyond to encourage his dream of becoming an entertainer.
Quote: "She (his mother) is the reason that I'm where I am."
---
Olwethu Nodada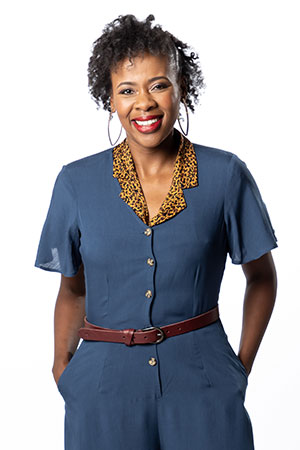 Olwethu Nodada (34) is married to businessman and entrepreneur Litha Nodada and mother of two girls. They currently reside in Somerset West but are originally from Port Elizabeth.
She currently works as a real estate associate.
Nodada was a Top 25 finalist in the Mrs South Africa competition. She decided to enter that competition because she believes it would elevate the causes she believes in.
She has always been a good communicator; in school was on the debate team and public speaker, as well in the drama class. She always knew there was something inside of her that needed a platform to come out.
When the Presenter Search on 3 started, many of her friends and acquaintances called her, so she decided to enter for this as well.
She loves to look pretty and dress up, and she'd love to use this platform for that. Also, in the back of her mind, she entered because she wants her girls to grow up knowing that there are no limits to what you can do.
Faith plays a big part in Nodada and her family's lives and she considers it to be the compass to her life and believes it to be the cornerstone of a purposed filled life.
Relatability is very important for Nodada, she wants people to look at her and see themselves.
Quote: "I'm just an ordinary woman dreaming big dreams and chasing them fearlessly. Also, I'm a mom, to me, affirming, inspiring and empowering the girl-child is important."
---
Simphiwe Harrison Mkhize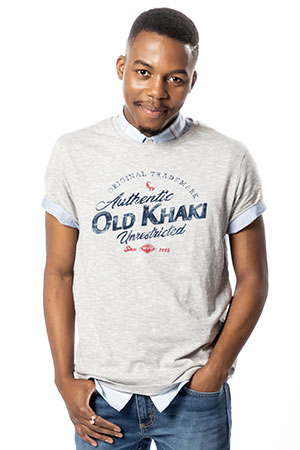 Simphiwe Harrison Mkhize (24) grew up in KwaMashu, Durban as one of five children.
After matric in 2013, he completed his Bachelor's Degree in Education, Physical Science and English at the University of Kwazulu-Natal.
He is currently a teacher at the Malvern Primary School in Durban.
Mkhize tells the story of how he struggled with Physics in high school, but his Grade 11 teacher – Mrs van Eeden – gave him worksheets to complete every single day.
Her passion and the worksheets helped him to improve his marks drastically and also instilled a love for physics that he went on majoring in it at university.
With this experience, he decided that he wanted to do the same for other children who might be struggling with learning.
Education is very important to Sindane and he is currently working on his Honours and Masters in Social Justice Education.
On top of his dreams to become a world-renowned lecturer in his field, he is also a singer/songwriter who would like to record impactful and inspiring music in the future.
In primary school, his teachers already encouraged him to enter public speaking competitions.
He remembers his first speech ever was about Ubuntu. He saw Nelson Mandela on television speaking about Ubuntu and he knew that was what he wanted to do.
His family have a Christmas tradition where they have to prepare a creative piece for the Christmas concert. At the age of 13, he sang for the first time in front of his family and realised he loves the spotlight.
Being in the Top 10 in Presenter Search is a validation of his two deepest dreams: being an educator and an entertainer.
Quote: "Television is a big classroom. You stand literally in people's homes, where they are learning from you. The possibilities of television are endless. My classroom is always fun and energetic."
---
Thandi Mhlongo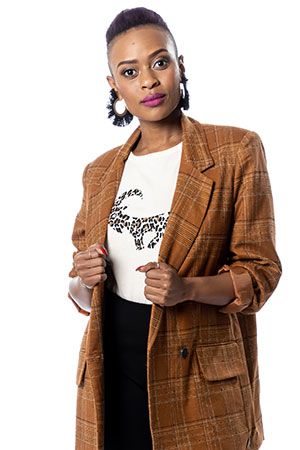 Thandi Mhlongo (32) grew up in Claremont, just outside Pinetown in Kwazulu-Natal.
She and her four siblings lived with grandparents and extended family. She is the mother of aa 11-year-old girl and currently resides in Durban.
Mhlongo is a lady with big dreams. Her long-term plan is to have one of the biggest media companies in Durban, and she believes that moving to Cape Town to be a presenter on the Expresso Morning Show is only the next step in reaching her dream one day.
She has a history in marketing and advertising and is skilled in online content creation, social media, social media marketing, digital marketing and radio.
For the past three years, Mhlongo has been the voice on Gagasi FM's Mid-Morning Hangout between 09h00 and 12h00 in Durban.
In 2019 she won a Liberty Radio Award for the Best Music Show. She believes that she is a voice for her generation and she wants to instil belief in people.
Being part of the Top 10 in Presenter Search is confirmation that she's living her purpose and her dream. She believes that her happy, joyful personality is going to set her apart from the rest of the contestants.
Quote: "The only thing better than a cup of espresso in the morning is a breath of fresh air, and that's I'm going to bring to the show."
---
Thato Moshoeshoe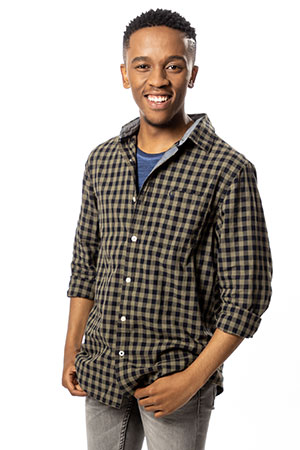 Thato Moshoeshoe (20) grew up in the small town of Matatiele in the Eastern Cape, very close to the Lesotho border.
Moshoeshoe has a royal lineage, as his great grandfather was King Lepogo Moshoehoe in Lesotho.
He is one of four children to his mother, Matshidiso Evelyn Moshoeshoe, a preacher in his home town.
After school, where Moshoeshoe was the head boy, he moved to Port Elizabeth to further his education.
He is currently studying for a Bachelor's Degree in Education, Economics and Accounting at the Nelson Mandela University.
As a young boy, Moshoeshoe already knew he wanted to be a presenter. He remembers that when his older brother was away from home, he played radio presenter in his brother's room and recorded himself on the radio.
He jokingly refers to himself as PK – preacher's kid – and one of the advantages was that he was the master of ceremony for all the church events, which taught him the confidence to be in front of people.
In his first year at university, he saw a sign for Madiba's Campus Radio and knew that was the next step in the journey to becoming what he always dreamt about.
He knocked their door down and finally got a spot as a presenter. His first show was a disaster as he was thrown in the deep without knowing what to do with all the buttons in front of him.
He quickly learned the ropes and in 2017 was awarded "Best Newcomer of the Year" on campus radio. In 2018 he got his own show called 'Rise Again', which was awarded "Best Show of the Year".
He is also a TV Presenter on Boy's Night out on Bay TV and he has recently started with a show on Kingfisher FM called #Fillup.
In 2018 he auditioned for Presenter Search on 3 in Port Elizabeth but was eliminated.
He then auditioned again online with the McCafe Fasttrack and this time he ended in the Top 6, meeting DJ Fresh.
Moshoeshoe believes it's his destiny to be a presenter and that's why he auditioned again for Presenter Search on 3, this time the Expresso Edition.